Take your ABLE funds with you
Sign up today for an ABLE Visa® Prepaid Card and access your funds from anywhere.
Just load it up and go
Easy to control your spending
Instead of pulling money directly from your ABLE account, you load the card with exactly how much you'd like to spend.
Load up to $20,000
You can load as much or as little as you need, anytime, up to $20,000.
Spend anywhere Visa
®

is accepted

The ABLE Visa Prepaid Card can be used everywhere Visa debit cards are accepted.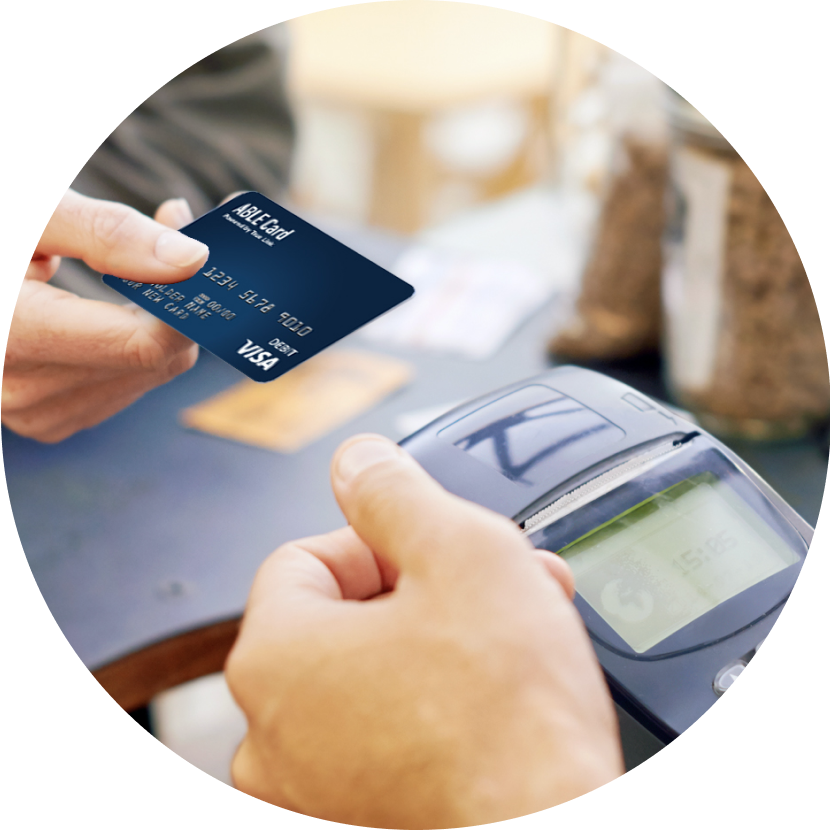 ---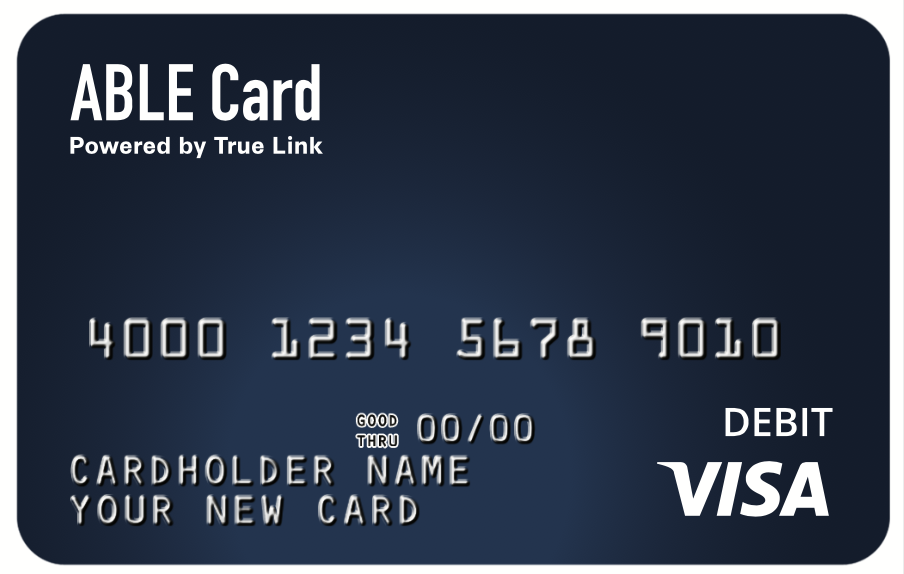 A card for everyone
Need an extra card? No problem.
If you're an Authorized Legal Representative (ALR) for someone, you can order a card for yourself to make purchases for the beneficiary, a card for the beneficiary, or both. Each card has its own balance and spending controls, so you can decide how funds can be used.
---
Easily record and track your expenses
See all transactions at a glance
Having an ABLE Visa Prepaid Card makes tracking your ABLE account expenses a breeze. Once you get your card, you'll be able to log in to your Visa card account and see all of your Visa card spending over time.
Sort, filter, and categorize your expenses with ease
You can mark transactions as "Qualified" or "Non-Qualified" and even upload receipts or personal notes to make reporting things to the IRS, SSA, or Medicaid that much easier.
Keep your eligible expenses all in one place
Using an ABLE Visa Prepaid Card allows you to clearly separate your ABLE funds and eligible expenses from your other personal checking or savings accounts for easier reporting.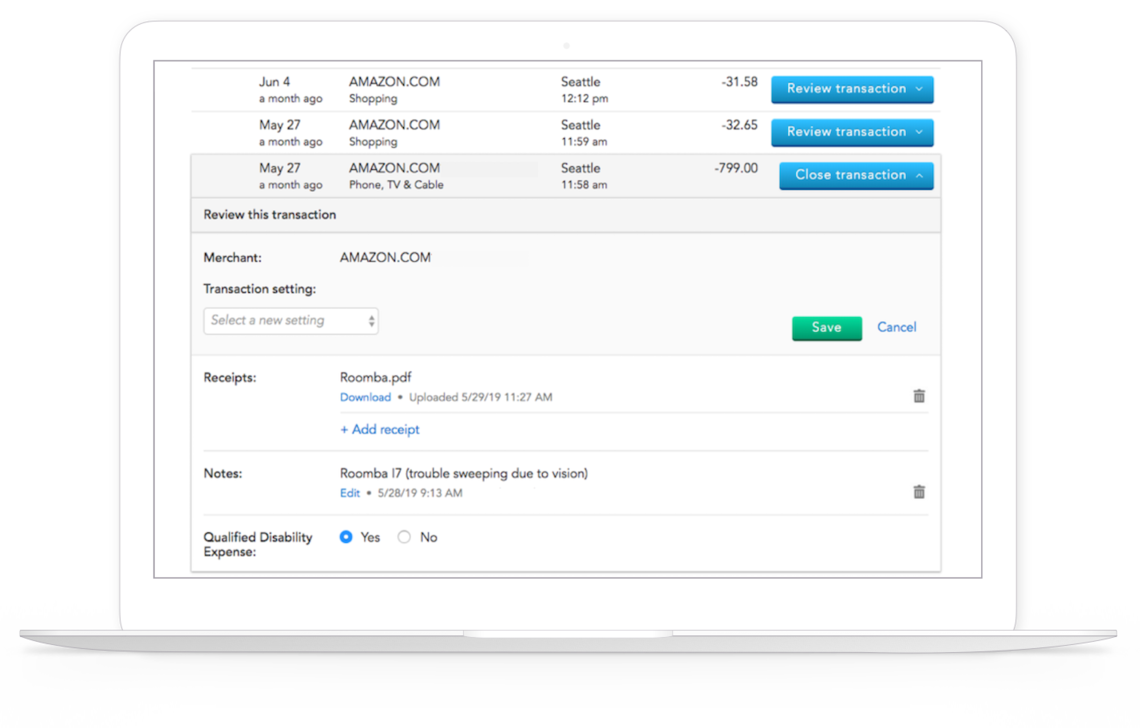 ---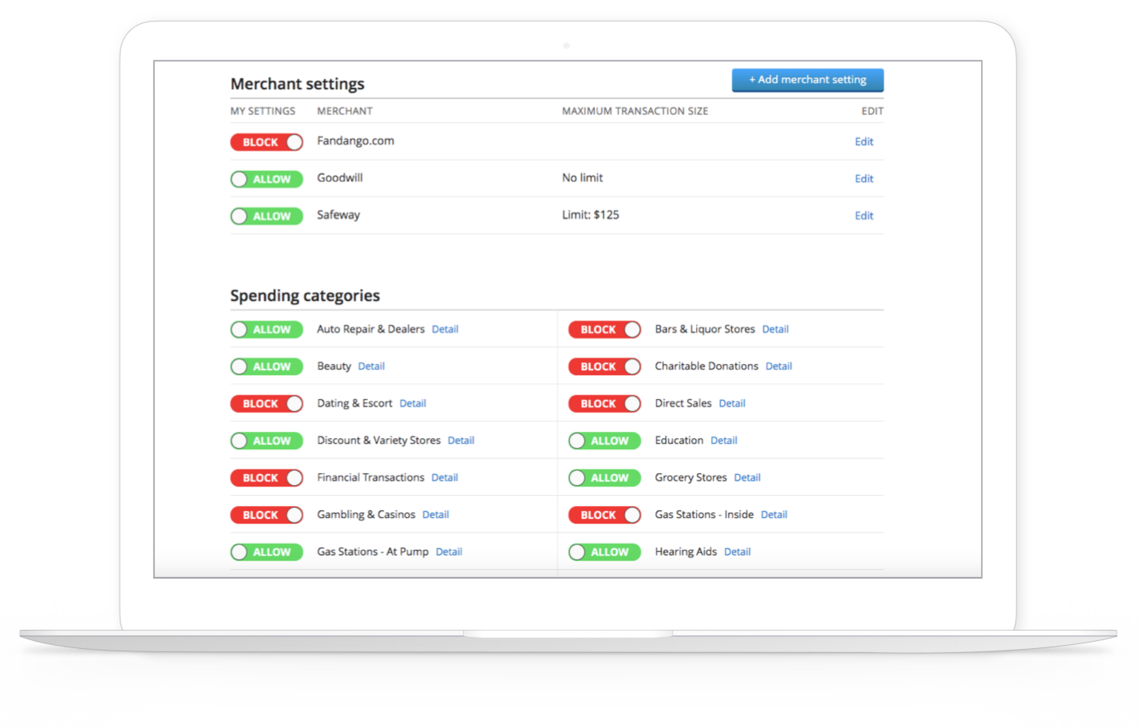 Help protect funds and enjoy peace of mind
Spending is limited to funds loaded on the Visa card
If there are not enough funds on the ABLE Visa card to cover a purchase, that transaction will simply be declined. There are no overdraft fees whatsoever.
Built-in account protection
Once you receive your Visa card, you can log in and set up customized restrictions on certain spending categories and you can also turn on SMS alerts to notify you of a range of activity on your ABLE Visa card.*
FDIC insured
Visa card funds will be FDIC insured through Sunrise Banks, N.A., provided the Visa card is registered in the name of the primary cardholder.
Not subject to benefits testing
Just like the funds in your ABLE account, the funds on your Visa card typically do not impact Medicaid or Supplemental Security Income (SSI) benefits eligibility.
*Standard text message rates, fees, and charges may apply.
---
Access your card with just a low monthly fee

†
There is no credit check†† and no transaction fees with the ABLE Visa Prepaid Card. You're only charged a $1.25 monthly fee once you've activated your card.†
†Other fees, terms, and conditions apply. See Cardholder Agreement.
††Approval if you meet identification criteria
---
Sign up today
Request your Visa card and create an account
In just a few steps you can sign up to receive an ABLE Visa Prepaid Card. After you've registered it typically takes up to 6-8 business days to receive your first card in the mail. For any subsequent cards, you may opt to pay for expedited shipping, which takes 2-4 business day. Then, once your card is activated, simply load it with funds from your ABLE account and you'll be on your way.
---
This card is issued by Sunrise Banks N.A., St. Paul. MN 55103, pursuant to license from Visa U.S.A., Inc. This card can be used everywhere Visa debit cards are accepted. Use of this card constitutes acceptance of the terms and conditions stated in the Cardholder Agreement.
True Link Financial, Inc. is required to periodically report certain Card information to the Visa Prepaid Clearinghouse Services (PCS) to assist in fraud prevention. Please contact PCS Customer Service for details regarding the information reported and on file with PCS. PCS Customer Service Department's business hours are Monday-Friday, 9:00 a.m.-5:00 p.m. Eastern Time.
Visa Prepaid Clearinghouse Services Customer Service Department
P.O. Box 4000
Conway, AR 72033
Phone: 1-844-263-2111 | Fax: 1-844-432-3609
Master Services Agreement (Cardholder Agreement) | Sunrise Banks Privacy Policy